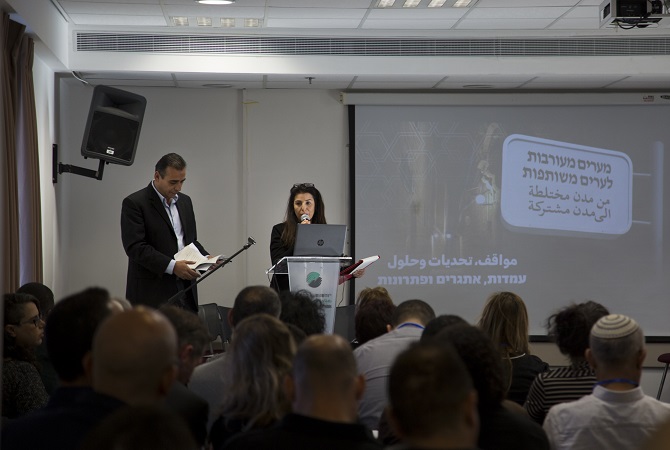 Every mixed city is a world full of complexities and challenges, but it is also where communities meet and create relationships between Jews and Arabs, building a shared life together. But this doesn't happen in a vacuum – it takes a lot of work. In a reality where more Arabs are moving to mixed cities, one must think about which city management models work for all residents.
That is why we held our first annual Shared Cities Conference in Acre, where we launched our new venture, which aims to develop policies for managing the mixed cities and shaping them as inclusive and equitable spaces. Over 120 city council members, professionals, social activists and stakeholders gathered to talk about how to transform mixed cities into shared cities.
Our new in-depth survey, presented at the conference, systematically examines and compares Jewish-Arab relations in the mixed cities. The extensive survey includes 2,100 residents of the 7 cities involved: Haifa, Acre, Lod, Ramla, Jaffa, Nof Hagalil, and Ma'alot Tarshiha. The findings were presented by Dr. Hisham Jubran of the Afkar Institute which conducted the survey.
Dr. Jubran presented a complex and multidimensional picture of life in mixed cities. On the one hand, 81% of Jewish respondents and 89% of Arabs described the relationship between Jews and Arabs in their cities as positive. On the other hand, 18% of Jewish residents of mixed cities fear entering the Arab neighborhoods, and 14% of Arabs in these cities report that they often encounter discrimination, and there are quite a few who want to live in separate neighborhoods – 41% of Jews and 32% of Arabs in all cities consent to separation.
But the exciting findings emerged from the questions we asked about education. The findings have provided very broad support for co-education in various ways. 55% of the Jews and 86% of the Arab residents of the mixed cities are ready to send their children to a bilingual school. 36% of Jews and 39% of Arabs in all cities strongly agreed with the statement, "I am in favor of joint study subjects between Arab and Jewish schools." 40% of Jewish respondents and 42% of Arabs in all cities strongly agreed with the saying: "I am in favor of joint educational programs for Jews and Arabs."
These are surprising and encouraging results, which show that the public, more than ever, desires the advancement of joint educational initiatives. It is time for all the mixed cities to operate, and to establish bi-lingual schools, to promote shared learning and to develop informal education programs for Jews and Arabs together.