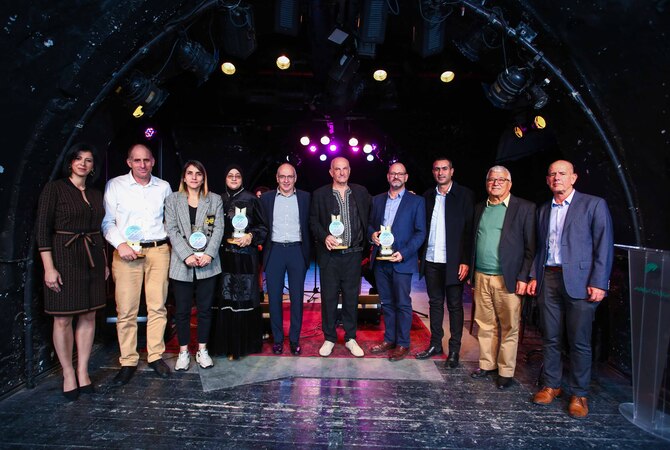 The Abraham Initiatives bestows the Champions of Shared Society award for the year 2022
For the fifth year running, The Abraham Initiatives bestowed the Champions of Shared Society award to prominent activists in the field of shared society in Israel. The awardees have been working for many years to promote equality, understanding, and partnership between Jews and Arabs. 
In a society that is becoming more and more mixed, in every possible arena, there is no future for policies aimed at blocking Arab political participation. There is no future for those who seek to continue neglecting Palestinian citizens of Israel. To live here together in security, peace, and prosperity, we need partnership.
This year's awardees are Jews and Arabs who understand that our existence here depends on each other. That none of us is going anywhere. That we are all "ba'alei habayit" (landlords). That there is only one true way to exist here—and that is together. They are women, men, and one organization, who dedicate their lives to building bridges and tearing down walls.
The Award Committed, headed by Orna Lin, Adv., with the participation of Basha'er Fahoum-Jayoussi, Adv., Anat Saragusti, and Nataly Hilo-Monayer, discussed all the nominations submitted by the public, and decided on the awardees:
Asmahan Jabali: For many years a social and peace activist. She facilitates groups and guides women, Arab and Jewish students, is an active partner in dozens of groups promoting shared living. She regularly participates in events, demonstrations, and rallies for Jewish-Arab partnership, peace, and in protest against violence. She is known to inspire many.
Ron Gerlitz: An expert in the field of government policy towards Arab citizens and the relationship between the Jewish and Arab citizens in Israel. He is not afraid to be a loud, clear voice against racism and discrimination, and in recent years he has established himself as one of the most prominent voices in the effort to minimize socioeconomic gaps, promote equal rights, and advance Jewish-Arab partnership in society and politics. He served for a decade as co-executive director of Sikkuy-Aufoq. For the last three years, he has been heading up critical research and public endeavors to promote integration and equality.
Sokina Taoon: Community organizer at the "Galil" bilingual school (Yad b'Yad), Sokina is a social activist whose entire work is dedicated to promoting shared society and building a strong, equal, and just relationship between Jews and Arabs in Israel. In the school community, she leads various activities and initiatives aimed at strengthening Arab-Jewish partnership. She also works to promote shared living through communal-social action as part of the "Standing Together" movement, and is on the leadership team of the Sipur – Hikaya organization.
Igal Ezrati: Founder of the Arab-Hebrew Theater in Jaffa 25 years ago, and is its current artistic director. His unique, years-long work emphasizes equality between Israel's Jewish and Arab citizens and the importance of Jewish-Arab partnership in all arenas, particularly in the cultural arena. Within the theater framework, he initiated many projects that bring together Jews and Arabs, projects that celebrate the local cultural richness and the historic connections between the two cultures. Outside of his work in the theater, he works to bring this outlook to wider society via the education system and events in Israel and abroad. 
AJEEC-NISPED: For more than two decades, this organization has been working for social change and creating equitable shared space. Its main mission is to enable the state's citizens, Arabs and Jews, to live together in a manner that preserves their respective identities and cultures. AJEEC developed extensive expertise in the Negev, and expanded its activities in recent years to the Center and the North via the implementation of well-established shared living models for jews and Arabs. The organization's work among Negev Bedouin young adults is particularly noteworthy.
Congratulations to all of the awardees!