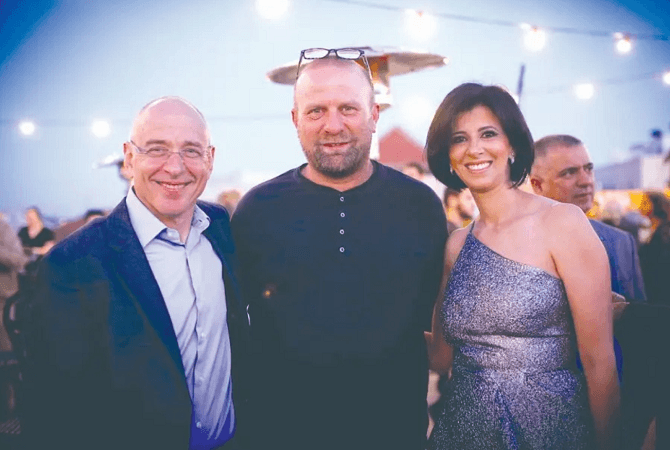 https://www.jpost.com/Israel-News/The-Lounge-TAU-for-youth-587617
TAU for Youth
Members of the Academic-Business Club of the Friends of Tel Aviv University, headed by chairman Amnon Dick and CEO Adi Olmert, met in Rishon Lezion for a joint tour and a first glimpse (in the new Check Point building) of the School of Computer Science and the Tel Aviv University for Youth. The building's architect, Eitan Kimmel, shared details about the planning and construction of the new building. Gil Shwed, CEO and founder of Check Point, attended the event with his wife Meital Danino and their children.
IDC
The Herzliya Interdisciplinary Center (IDC), which is celebrating 25 years since its establishment, inaugurated a new building on its campus that's named after the late businessman David Arabov, and was donated by his wife Dalia and his sons Doron, Alon and Tzachi. Together with the rest of the Arabov family, they unveiled the new building in a festive ceremony that was attended by Uriel Reichman, president and founder of IDC Herzliya and Moshe Fadlon, mayor of Herzliya. At the ceremony, Tzachi Arabov, co-owner of Acro Real Estate, said, "This is a particularly emotional moment for me. Throughout his life, it was my father's dream to encourage students to learn at the university, especially those who could not afford it. My father helped thousands of students achieve scholarships, complete a degree and acquire a profession."
Bar-Lev Hi-tech Park
More than a thousand people – including engineers and students who will finish their engineering studies in the near future – were invited to the Bar-Lev Hi-tech Park, located between Acre and Karmiel, for the first event of its kind ever in northern Israel. The initiative of the Israel Innovation Authority and the Bar-Lev Hi-Tech Park management, the event was attended by Aharon Aharon, CEO of the Innovation Authority; Yael Yegerman-Lavi, chairwoman of the Bar-Lev High-Tech Park; CEO Ram Levinson; Matti Zinder, CEO of Spiral Solutions and other senior hi-tech executives.
Abraham Initiatives
The Abraham Initiatives (formerly the Abraham Fund), which works to advance equality and coexistence between Jews and Arabs, is celebrating its 30th anniversary.
In the Port 15 Hall, located in the heart of the summit garden of Old Jaffa, hundreds of Abraham Initiatives supporters, businessmen and social activists gathered to offer their congratulations. They included: hi-tech entrepreneur Orni Petruschka, co-chair of the Abraham Initiatives; attorney Bashir Fahoum Jayusy, jurist and co-chair of the Abraham Initiatives; and attorney Jeffrey Louis from Boston, chair of the organization's international branch. Also attending were Elah Alkalay, VP Business Development and chair of the group's mutual fund management subsidiary; Noam Lautman, chair of the Lautman Foundation.
LAGO Convention Center
CEOs and CFOs of industrial, commercial, real estate, high-tech and infrastructure companies gathered at the LAGO Convention Center for a special Passover event hosted by Smadar Barber-Tzadik, CEO of First International Bank and Ilan Batzri, head of the Bank's Business Division. There to make a holiday toast were: Adam Roimi, Avraham Kuznitsky, Yigal Dimri, and Danny Aflalo, deputy director of Housing and Construction.