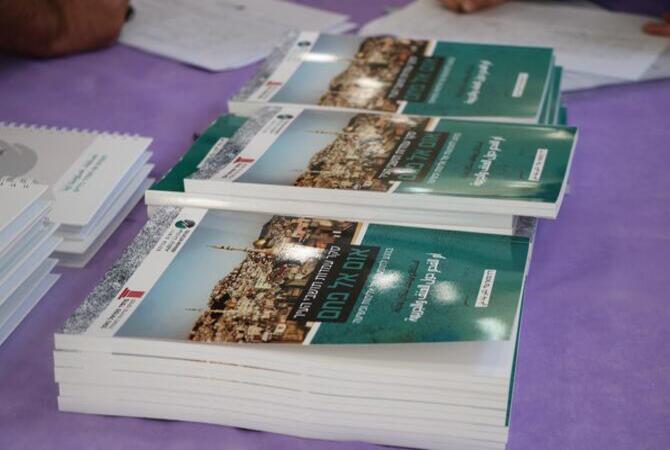 July 26, 2022
First-of-its-kind survey in Arab society reveals: 95% of the population is not satisfied with the police's handling of violence—many personally fear for their lives
The survey, conducted by The Abraham Initiatives in partnership with the Umm al-Fahm municipality as part of the municipality's efforts to combat crime and violence in the city, reveals concerning data on Arab society's experience of the phenomenon
Most of the city's residents feel a lack of personal security, reporting a rise in the degree of violence; more than half are ready to take some part in the struggle against violence
To read the survey (Hebrew) – click here

On 26/7/22, the Umm al-Fahm Municipality, in a first-of-its-kind conference, launched a survey conducted within Arab society in partnership with The Abraham Initiatives.
In a representative survey conducted over the past year, 302 adult Umm al-Fahm city residents were asked about an array of issues that are central to the agenda of Arab society in Israel. The survey demonstrates that many residents are very concerned by the phenomenon of violence (i.e. violence generally, crime, shootings, and use of firearms), most of whom fear they might be personally harmed by this phenomenon. The risk to an Umm al-Fahm resident of being murdered—in contrast to a Jewish resident of a city of the same size—is 25.6 times the risk to the latter. Additionally, most of the city's residents feel a lack of personal security, and reported a rise in the degree of violence. More than half of those surveyed are willing to take some part in the struggle against violence in the city. Fewer than 20 of those surveyed expressed trust or a lot of trust in the police. According to residents, improving the general level of education is the most significant factor affecting the level of violence.
Actions taken towards minimizing violence in Arab society: 95.7% of those surveyed agreed that instituting more severe penalties for violent criminals is very important; 94.7% agreed on the necessity of conducting weapons-collecting and confiscation operations on a frequent basis; 87.8% agreed that the criteria for firearms permits must be tightened; 87.4% agreed that dealing and use of drugs must be diminished; 73% agreed that the number of police officers dealing with violent crimes should be increased; and 71.5% agreed that the unsound relationship between the police and Arab society needs to be improved. 
Phenomena that concern Arab society in Israel: The data is not so surprising—92.4% of Umm al-Fahm residents are concerned, first and foremost, by crime in Arab society, and 91.6% are worried about violence. 67.2% are concerned by inequality between Jews and Arabs in Israel, 66.8% are worried about road accidents, 56% about the status of democracy in Israel, 51.7% about unemployment, and 51% are concerned about the stagnation in the Israeli-Palestinian peace process. We can see from the data that inequality, the status of democracy, the peace process, violence, crime, unemployment, and road accidents are core issues with which Arab society is concerned.
Those surveyed were also asked about how they define their identities: 28.5% defined themselves as "Palestinian Arab in Israel," 22.8% Palestinian Arabs. 9.3% defined themselves as Israeli Arabs, and a similar percentage defined themselves as Palestinians in Israel. 2.6% defined themselves as Palestinian Israelis, and only 0.7% defined themselves just as Israelis. For 54.3%, their Muslim identity is most important, for 36.4% it is their Palestinian identity, and for 9.3% their Israeli citizenship. These findings show the existence of a dominant Palestinian identity in Israel and the importance of religion for Muslim citizens of Israel.
Participants in the conference included Deputy Minister of Public Security MK Yoav Segalovitz (Yesh Atid), MK Ayman Odeh (Joint List), MK Mansour Abbas (Ra'am), Mudar Younes, Adv. – Ar'ara Council Head and Chair of the Committee of the Heads of Arab Local Authorities, Habbas al-Atawna – Hura Council Head, Omar Wikad Nassar – Arraba Council Head, Darwish Rabi – Jaljuliya Council Head, Fida Shehadeh – Lod Council Member, an Israel Police representative, and representatives of civil society organizations and academia.
The speakers at the conference for the survey launch held in Umm al-Fahm on July 27, 2022 were the Umm al-Fahm mayor, Dr. Samir Mahamid, and our Co-Executive Director Dr. Thabet Abu Rass:
Umm al-Fahm mayor, Dr. Samir Subhi Mahamid: "We face many challenges in this city. Violence, budget issues, employment, unemployment, housing, N.E.E.T. and at-risk youth, and more. I live in my city, and this city has been bleeding over the last year, during which 11 people were murdered—the highest [of any other place] in the country. We are taking responsibility—and decisions cannot be made without data and an organized plan.
"This year, there has been a decrease in the threshold of violence in the city, and it is noticeable. It is the product of cooperation between the municipality, community, police and other factors. But unfortunately, according to the survey data, only 9% percent of the population in Umm al-Fahm trusts in the police and their activities. The police must do more to gain the trust of the Arab citizens in the country, but I believe that in the future we will be able to see an improvement in security and trust, and I hope that someone in the government will adopt our plan to eradicate violence and improve the face of the city."
Dr. Thabet Abu Rass, Co-Executive Director of The Abraham Initiatives: "We said a long time ago that without Arab society, its political leaders, religious leaders, educators, we will not move towards a solution. And here today, Umm al-Fahm is launching the first step to building a well-researched infrastructure for a local work plan. It is true that, first and foremost, the police and the government are responsible for ensuring our personal security, but we also need to do everything we can on our side of things. There is hope—we see that the police is making more of an effort than before. These processes and efforts are significant."